Beach Day Essentials: Must-Haves For the Perfect Day in the Sun
Posted by S.H. June Real Estate on Saturday, May 27, 2023 at 7:30 PM
By S.H. June Real Estate / May 27, 2023
Comment
With the warm sun, soft sand, and soothing sound of crashing waves, a day at the beach is a delightful way to unwind and enjoy nature's beauty. However, to ensure a memorable and comfortable experience, it's essential to pack the right beach day necessities. In this blog post, we'll explore a comprehensive list of must-have items that will make your beach day more enjoyable and stress-free.
Sunscreen: Protecting your skin from harmful UV rays should be your top priority. Choose a broad-spectrum sunscreen with a high SPF, and don't forget to reapply every two hours. Remember to cover all exposed areas, including your face, ears, and the often-forgotten feet.
Beach Umbrella or Canopy: Shield yourself from excessive sun exposure with a beach umbrella or canopy. These portable shade providers offer a cool spot to relax, take a break from the heat, and enjoy a picnic. Look for a sturdy and easy-to-assemble option that can withstand beach winds.
Beach Towels or Blankets: A good quality beach towel or blanket is essential for lounging comfortably on the sand. Opt for quick-drying, lightweight options that are easy to carry and shake off sand. Extra-large sizes are ideal for stretching out and sharing with friends or family.
Portable Chairs: While the sand can be inviting, having a portable chair adds an extra level of comfort. Look for lightweight, foldable chairs that are easy to carry and set up. Some chairs come with built-in coolers or pockets to hold beverages, snacks, and small items.
Cooler Bag or Insulated Cooler: Keep yourself hydrated and refreshed by bringing a cooler bag or insulated cooler. Fill it with chilled water, beverages, and snacks to beat the heat. Consider freeze packs or ice cubes to maintain the desired temperature.
Beach Tote Bag: A spacious and durable beach tote bag is a must-have to carry all your beach essentials. Look for a waterproof or sand-proof material to prevent your belongings from getting wet or filled with sand. Multiple compartments can help you stay organized. Here are our favorite totes.
Water-resistant Phone Pouch: Capture those memorable beach moments without worrying about damaging your phone. A water-resistant phone pouch or case will keep your device safe from water, sand, and sunscreen spills, allowing you to take stunning photos and stay connected.
Water Shoes or Flip-Flops: Protect your feet from scorching sand and sharp objects with comfortable water shoes or flip-flops. Look for styles that offer good traction, quick-drying materials, and easy clean-up. Avoid wearing valuable or hard-to-replace footwear.
Snacks and Hydration: Spend more time enjoying the beach and less time searching for food by packing your favorite beach snacks. Fresh fruits, trail mix, sandwiches, and energy bars are convenient and nourishing options. Don't forget to bring plenty of water to stay hydrated throughout the day.
Entertainment: Enhance your beach day with some entertainment options. Pack a frisbee, beach ball, or paddleball set for active fun. If you prefer relaxation, bring a good book, a portable speaker for music, or a set of playing cards to enjoy with friends or family.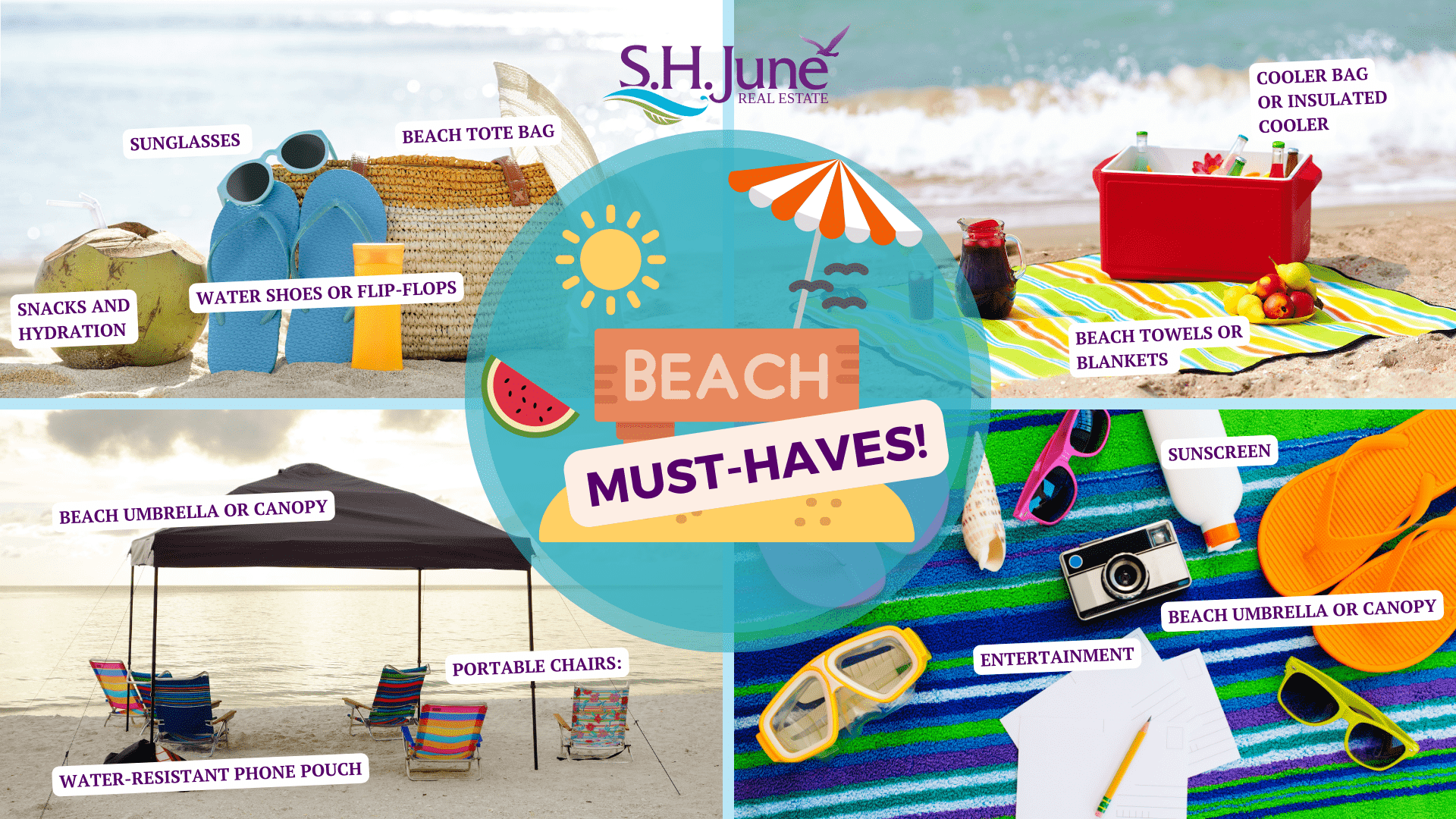 A well-prepared beach day is the key to a fun and relaxing experience. By packing these essential items, you'll be fully equipped to enjoy the sun, sand, and surf without any worries. Remember to prioritize sun protection, stay hydrated, and have a great time exploring the wonders of the beach. So grab your beach essentials and get ready for an unforgettable day in the sun!