16 Questions to Ask When Buying a House
Posted by S.H. June Real Estate on Wednesday, October 26, 2022 at 2:41:35 PM
By S.H. June Real Estate / October 26, 2022
Comment
There are important questions and negotiating strategies to know and execute when buying a house. This process can be extremely daunting and stressful, and what's worse is that some people even end up regretting their purchase.
Here are some good strategies and tips when buying a house. The questions you ask will reveal a lot of information about your major purchase.
Questions To Ask The SELLERS When Buying a House
It's important to build rapport with the seller. Be mindful of your attitude and make sure you don't do or say anything that may annoy them.
1. Why are you selling?
This simple question is a great way to reveal their motivations for moving on, and it's a great opportunity to open up another thread of conversation topic you may have in mind.
2. What's your time scale?
Sometimes buyers forget to ask this question. This will actually give you a better idea of how quickly the sellers are looking to move.
3. Have you had much interest?
This is a good question to ask if you notice that the house has been on the market for a while now. You'll usually ask this question to the real estate agent, but once you've built rapport and feel comfortable with the seller, then you can explore this conversation more.
4. Whose names are on this property?
Download the Title of the Deeds and confirm how many people are listed. If there are two people but you are only talking to one person, then it's definitely good to verify and make sure all parties agree to the sale.
5. What is the age of the major systems and appliances?
Appliances have a shelf life of about 15 years. Knowing the age of the appliances and when the house was built will give you a better idea if there is going to be an associated high maintenance cost.
6. May I have a look at the copy of the tenancy agreement?
If the property has tenants, then make sure that you read the tenancy agreement to avoid any problems with a tenant who may still be living there.
7. What are the neighbors like?
If you're going to reside in the house you're planning to buy, then it's important to consider your neighbors as well.
8. Is there an allocated parking space?
If the property doesn't have an obvious garage, then ask this question. If the sellers say something along the lines of, "We just always park there," then you have to double-check because there is a difference between just always parking at a spot versus a specifically allocated parking space.
9. Do you know if there are any tree preservation orders on the property?
This is a question to consider when you are thinking of building on or developing the property.
10. Do you mind if I turn on the faucet/shower to check the water pressure?
If you are buying a unit, consider the water pressure to avoid frustrations in the future.
11. What's the lowest you'd be willing to accept AND still be happy?
Use this question appropriately when dealing with the seller. You may surprise yourself when they say a lower amount than what you actually had in mind in the first place.
Questions To Ask The REAL ESTATE AGENT When Buying a House
Be responsible and reliable. When buying a home, your real estate professional is not just your real estate counselor but also your negotiator and messenger. They are knowledgeable and even take continuing education courses to keep improving their skills and knowledge to better work with you.
12. How long has this property been on the market?
You can easily answer this question yourself by looking at the listing page, BUT it's still an important question to ask before it can give you some negotiating power depending on how long it's been on the market.
13. Why do you think it hasn't sold yet?
Asking this question is a good indicator to know if something is wrong with the house. It can be from a buyer's side if they just have bad financing, or it can be because of major structural issues.
14. Is the house in a flood zone?
If the house is in a flood zone and you're trying to get a mortgage on it, then anticipate for the lender to ask you to make extra flood insurance payments.
15. Which contingencies do you think could be worth getting and which could be skipped?
Too many contingencies in your contract can turn off sellers, so to avoid exposing yourself to excessive risk, ask for guidance from your real estate professional.
16. If I buy it and hand it back to you, what amount do you think I should charge for the rent?
If you are buying a property and then renting it out, then your real estate agent will look at you more favorably especially if they will be handling the property management because it will create another source of income for them. Don't be afraid to ask this question!
SUMMARY: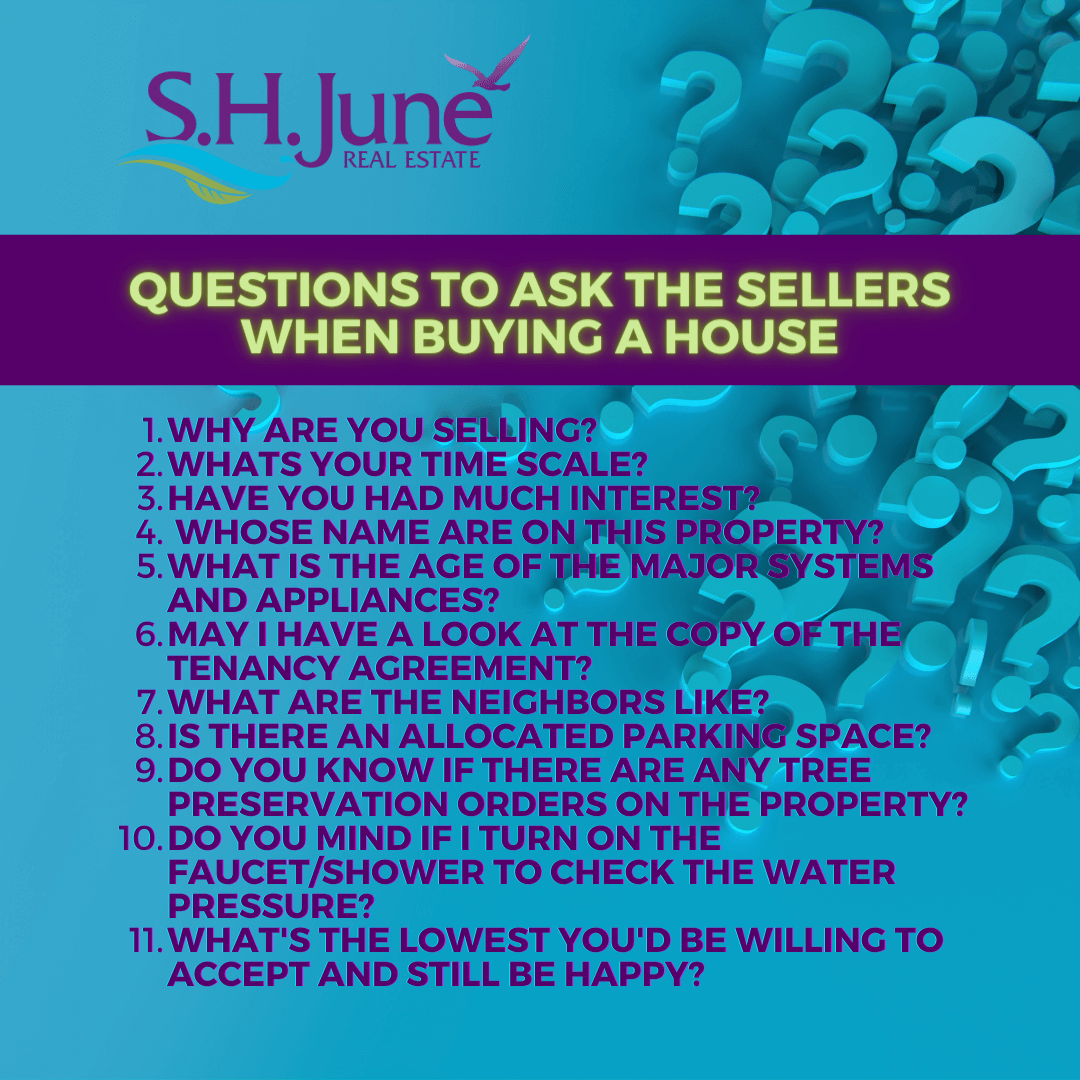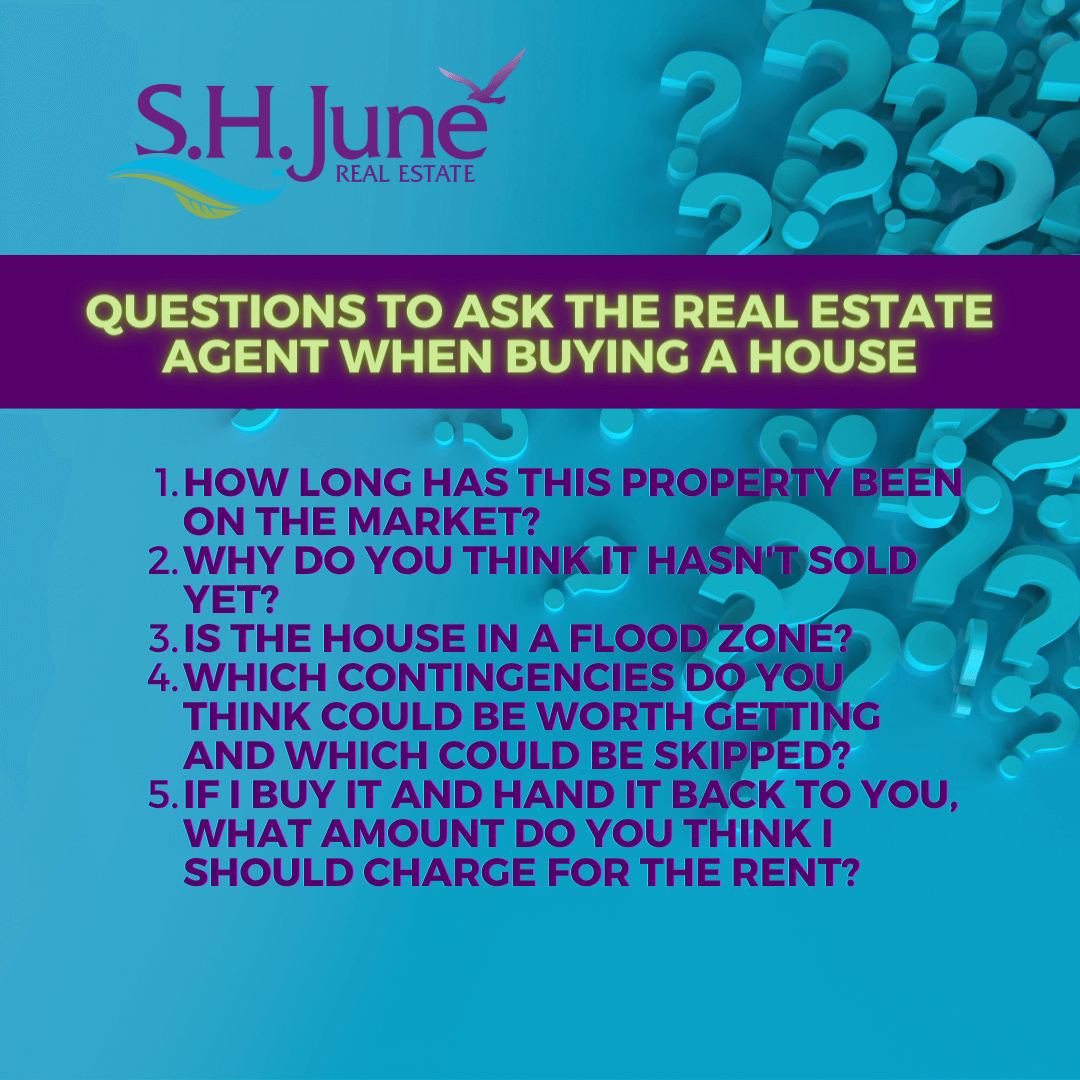 If you consider these 16 questions to ask when buying a house, you'll be well on your way to ensuring that your investment aligns with your goals. You can ask more questions, of course. The bottom line is, you need to be prepared and well-educated. Don't be afraid to ask because the rapport you build and the information you get will certainly put you ahead of the competition.
Have other questions? We have Video Resources available on our website!
If you are preparing to buy your first home soon, the Seth June Team will be more than happy to help answer your questions and get you started!